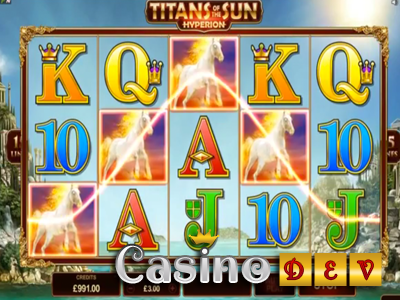 Go Wild Casino is inviting players to visit the site to celebrate Microgamings' recent release of two new video slot games with a chance to win thousands of Free Spins.
The Microgaming powered online casino is offering players an opportunity to win up to 4,000 free spins on the Titans of the Sun Theia Slot and the Titans of the Sun Hyperion video slot games.
Players wanting a chance to unlock Achievers (extra challenges added to the games) and obtain Free Spins are simply required to play the two new video slot games at Go Wild Casino between now and Sunday, 1st November, 2015.
Slot achievements are additional challenges added to selected slot games for players to have a chance to win not only the basic rewards offered by the slot but an opportunity to win special bonuses or free spins.
Achievements can be unlocked on both new Titans of the Sun slots games by completing all the payout combinations for each symbol and free spins can be won.
Players can track their progress on the Achievements Table and will receive a pop-up message as soon as a specific Achievement is unlocked.
Achievements in Go Wild Casino's new promotion will reward players with specific sets of free spins, namely King, Queen, Horse, Phoenix, Theia, Hyperion and Scatter.
Achievements to be unlocked on specific payout combinations in order to win up to 4,000 Free Spins at Go Wild Casino during the promotion period are as follows –
Kings pays complete – 50 free spins
Horse pays complete – 100 free spins
Phoenix pays complete – 150 free spins
Hyperion pays complete – 200 free spins
Scatter pays complete – 500 free spins
All achievements unlocked – 1000 free spins
Try Your Luck at Go Wild Casino